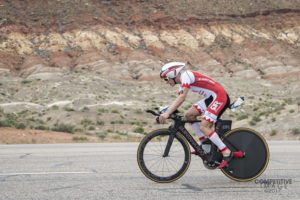 I am very happy to be back racing and putting together a solid day only six weeks after thumb surgery in Australia. Initially I wasn't going to be ready or cleared to race until Ironman Brazil May 28th. However, with some hard work, creative training and perseverance I was cleared by the surgeon to race St George.
I was very happy to have this news as I've raced every edition of the 70.3 since its inception.
I had missed over three of swimming and only a week off the bike so the swim was going to be the question mark.
It was a smooth start to the swim and I stayed to the right to keep my hand out of the mess at the start. I felt quite good considering and I was happy to exit in the main group 45seconds down from the lead four.
Once on the bike my focus on preparation for Ironman Brazil became apparent. I didn't have any punch in my legs and I was able to aggressively ride the hilly course like have done the last four years. Instead, I was stuck in ironman gear and had to watch guys ride by. This was frustrating and disappointing but I knew I had to keep putting in a solid effort and hit the run with a fresh a start.
With the break from swimming and cycling my run has been going very well so once I hit the run I knew I'd be moving up. Mile by mile I picked off guys and the back half felt really strong. It wasn't a blistering run for me but it was still the third Fastest of the day and it felt like I could keep going.
So everything about the day bodes well for Brazil. Even a lack lustre bike means I've got the training in and the strength is there to run well.
Back home for final prep and off to Ironman Brazil May 22nd.