Good morning .. a lot happens when the Northern Hemisphere sleeps .. and while we were sleeping Brent was having surgery on his thumb. What was initially thought to be a dislocated thumb was later accurately assessed and diagnosed as a ruptured ulnar collateral ligament. The ligament tore two little pieces of bone. Over the last 36 hours, Brent saw a doctor, had diagnostics and a surgical consult and had surgery. You may recall that he did race with this injury so we did consider holding off surgery until the end of the season. But the advice was that immediate surgery would provide the best outcome. He will have to miss IRONMAN 70.3 Oceanside but given that he can ride the trainer and run once the swelling goes down, his defence of IRONMAN Brazil and his pursuit of the IRONMAN World Record is still on the schedule.
The surgery was a success. The ligament was reattached and the bone fragment is back in place. Brent will see a therapist in 48 hours, remove the plaster cast and get a custom splint. He will be able to resume training at that time.
We are so grateful for all of the support of the Super League team in Australia and for the medical team who have expedited this process to ensure that Brent has a full and quick recovery.
Adversity leads to greatness. I believe that with all of my heart. In which case, Brent is going to have an unbelievable 2017 season. Thank you for your support.
Here is a note and a few pictures from Brent:
"Everything went well. Ligament was reattached and bone fragment put back in place. I feel good and looking forward to getting back to the house and eating some cake????. My friend is a cake baker so there's always extra!
I will see a therapist in two days to remove plaster cast and get custom splint. The surgeon will actually drive up to Noosa to see me there and check in. He has been amazing"
"It has been a world wind 48 hours, but a very successful and worthwhile time. I was able to see a GP, get imaging done, see a surgeon for a consult, and then get in for surgery just this morning. I am so fortunate to have amazing people in my life to support me in racing but also in times of injury and need. I am so thankful for this and I know I will be back racing at top form in no time. I will still be able to train once initial surgery swelling goes down, I've got two good legs and one arm! You can't keep a triathlete from training ????"
Thanks for the support and I look forward to sharing more of the story and rehab with you.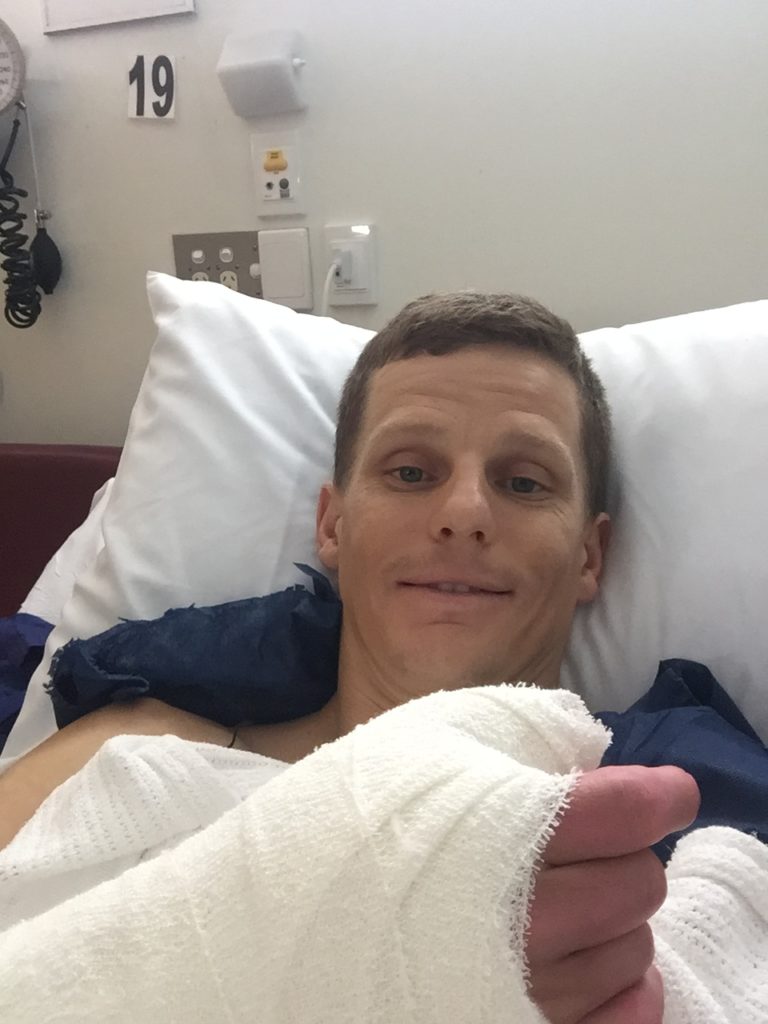 All good, but then got this